What is the full form of DNB
---
DNB: Diplomate of National Board
DNB stands for Diplomate of National Board. It is a title awarded by National Board of Examination (NBE) which is an autonomous academic body under the Ministry of Health and Family Welfare, Government of India. It is awarded to the candidates who successfully complete postgraduate or postdoctoral medical education under the National Board of Examination (NBE).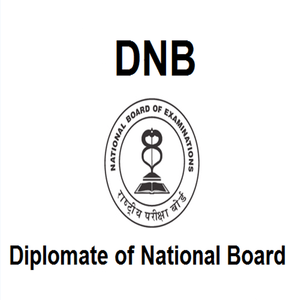 There are around 150 recognized medical colleges who offer DNB program. It does not stand for a single medical course. It is offered in various medical disciplines. Some of the popular super specialties for DNB are listed below:
Cardiology
Endocrinology
Hematology
Neonatology
Rheumatology
Neurology
Nephrology
Gastroenterology
Clinical Pharmacology
Cardiology
Endocrinology
Hematology
Neonatology
Rheumatology
Neurology
Nephrology
Gastroenterology
Clinical Pharmacology
DNB can be equated with other postgraduate and postdoctoral degrees awarded by all reputed colleges and universities in India. The DNB holders are eligible to apply for specialist and faculty post in hospitals and teaching institutions, respectively.
---