What is the full form of NCR
---
NCR: National Capital Region
NCR stands for National Capital Region. It is the metropolitan area in India which encompasses the entire territory of Delhi and urban areas of neighboring states; Haryana, Uttar Pradesh and Rajasthan. So, Delhi along with the urban areas of the neighboring states is known as the National Capital Region.
It is one of the world?s largest agglomerations with a population of over 47,000,000. In 2011-12, the NCR including all of its states and districts generated GDP of $128.9 billion. This GDP was 7.5 percent of the total GDP of India of this year.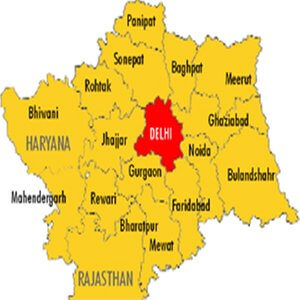 Origin of the concept of NCR
It was recommended in the First Master plan for Delhi in 1962 that a broad area of Delhi and surrounding towns should be developed as metropolitan region to reduce the population pressure on Delhi.
Adjoining states and their districts
According to the National Capital Region Planning Board Act, 1985, there are total 23 districts of adjoining states of Haryana, Uttar Pradesh and Rajasthan that comprise NCR. These states and their respective districts are listed below:
National Capital Territory of Delhi: It is the union territory of India that covers the Delhi and New Delhi.
National Capital Territory of Delhi:
Haryana: The districts of Haryana that are part of NCR are:
Haryana:
Bhiwani
Faridabad
Gurgaon
Jhajjar (Jhajjar and Bahadurgarh)
Mahendragarh
Panipat
Rewari
Rohtak
Sonipat
Mewat
Palwal
Jind
Karnal
Bhiwani
Faridabad
Gurgaon
Jhajjar (Jhajjar and Bahadurgarh)
Mahendragarh
Panipat
Rewari
Rohtak
Sonipat
Mewat
Palwal
Jind
Karnal
Uttar Pradesh:The districts of Uttar Pradesh that are part of NCR are:
Uttar Pradesh:
Baghpat
Bulandshahr
Gautam Buddha Nagar District (Noida and Greater Noida)
Ghaziabad
Muzaffarnagar
Meerut
Hapur
Baghpat
Bulandshahr
Gautam Buddha Nagar District (Noida and Greater Noida)
Ghaziabad
Muzaffarnagar
Meerut
Hapur
Rajasthan: The districts of Rajasthan that are part of NCR are:
Rajasthan:
Alwar
Bharatpur